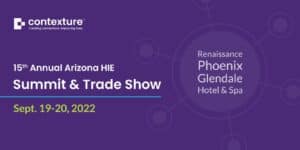 Thank you for attending the 15th Annual Arizona HIE Summit & Trade Show September 19-20 in Glendale, Arizona.
Please click on the speaker's name below to view or download each speaker presentation.  The video recordings will be posted early next week.  Please note, some presentations have been modified and not all presentations have been made available at this time per our speaker's request.
Monday, Sept. 19 Presentations
Keynote Address
Contexture Arizona Update| Video

Advancing Health Equity Through Population Health Practice & Data Analytics | Video

Improving Outcomes, Driving Value: Using HIE Data in Value-Based Performance Contracts| Video

Moderator:  Lauren Girard, VP, Quality Improvement & Business Line Management, Contexture
Panelists:   Michael Franczak, Ph.D., Director, Population Health Services, Copa Health
Silvia Garcia, MSW, MPA, Chief of Staff, Bayless Integrated Healthcare
Audrey Reich Loy, LCSW, LAC, Director, Program Operations, San Luis Valley Health Regional Medical Center, Alamosa, CO
Jacqueline Webster, Ph.D., LAC, NCC, Assistant Director, Population Health, Copa Health
Banner Innovations and Integrated Care| Video

Transforming Public Health Data to Support Health Equity | Video

Bold Horizons: The Future of Health Information Exchange | Video

Tuesday, Sept. 20 Presentations
Let's Be Direct: The AzHDR's Impact Around the State | Video

Moderator:  Carla Sutter, Director, Arizona Healthcare Directives Registry (AzHDR)


Panelists:  Cindy Leach, VP, Long Term Care, Mercy Care
Jennifer Martinez, VP of Administration, Spectrum Healthcare
Matt Osborn, Sales Manager, Desert Financial Credit Union
Amy Schwabenlender, Executive Director, Human Services Campus
HIE Excellence Awards Presentation  |  Video
Partner with Desert Financial to Enhance Your Employee Education & Wellness Program| Video

Strengthening Home and Community Based Care: ARPA Funding in Action | Video

TEFCA: Interoperability From State to State | Video

CommunityCares: Connecting Resources for Social Determinants of Health  | Video

Crisis Bed Registry & Behavioral Health Continuum of Care | Video

Moderator:  Nancy Whitt, Director, Market Research & Business Intelligence, Contexture


Panelists:  Andrew Erwin, Esq., Chief Operating Officer, Crisis Response Network/Solari Inc.
CJ Loiselle, Crisis Administrator, Arizona Health Care Cost Containment System (AHCCCS)
Dana Neves, Director, Business Systems Development, Community Bridges, Inc.