Contexture Branding
Frequently Asked Questions
1. Is there a shorter document I can refer to for brand guidelines?
Yes. We have a Branding Quick Reference Guide that is two pages and includes the most important elements you need, such as fonts, colors, logo, etc. We encourage you to print it out or save it to your desktop for quick reference.
2. How should I update my email signature?
There is just one email signature for all Contexture employees. It should look like this: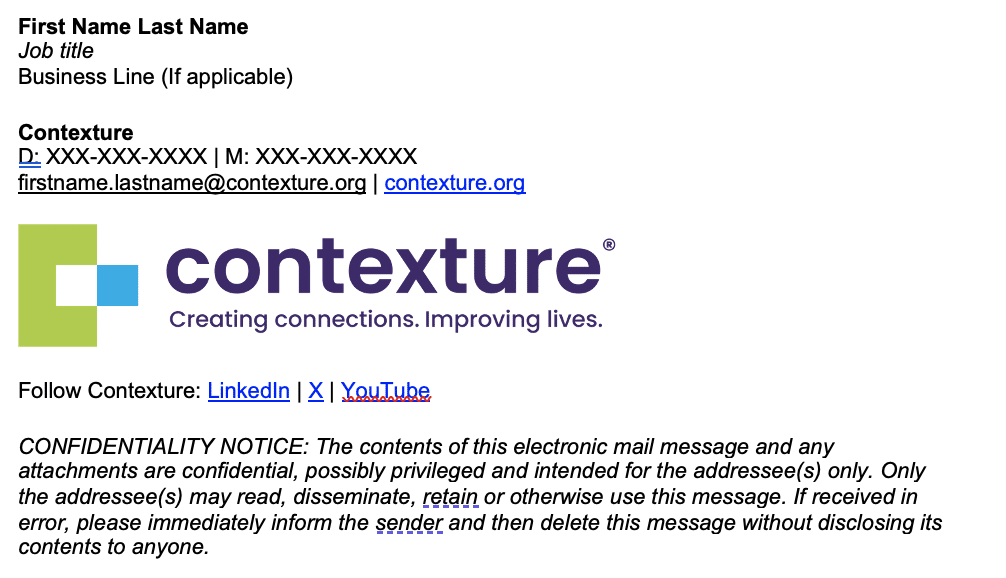 To ensure that the sizing of the graphics is correct, please open the attached word document and copy and paste directly from the word document. DO NOT COPY AND PASTE FROM EMAIL as the sizing does not transfer appropriately.
** Contexture-EmailSignature-09182023.word
Please note the following details:
Job title italicized only (we received feedback that this is preferred vs. bold)
All font in the email signature is 11-point Arial
The Contexture logo should not exceed 4.5 inches in width.
Make sure your email address and websites links work properly. Note that you may need to manually link them using the hyperlink function in the "Edit signature" menu bar. Additional directions in the Word document.
3. Should I change my voicemail greeting?

Yes, please change your voicemail either on your personal cell phone or your work extension – or both as needed. Following is the recommended script.
Hello, you have reached Contexture. I am sorry to have missed your call. Please leave a message and I will return your call as soon as I can.
4. What organization should I list on my LinkedIn Profile?
If you are new to Contexture, update your profile with your applicable start date.
If you were an employee of CORHIO or Health Current, follow these steps:
END your tenure with CORHIO or Health Current on December 2021
BEGIN your tenure with Contexture on January 2022
Update your job title (as reflected on the latest Contexture org chart)
Modify your work location: CO, AZ, Other
5. Can I get business cards?

We have a standard design for our Contexture business cards; cards are printed with your managers approval. Please connect with us at marcom@contexture.org if you have any questions.
6. Can I start using the Contexture PowerPoint?

Yes, click here to download the PowerPoint template. Note that if you are presenting on behalf of your HIE community (Colorado or Arizona), please use the optional introductory co-branded slide explaining the relationship between Contexture and the respective HIE community.
7. Where can I find new Contexture logos?

Click here for the branding guidelines document. Please review this document first before using the Contexture logo(s). Below are the standard logos – with and without the tagline. Download your preferred logo and use it according to the brand guidelines.
– Contexture logo WITH tagline

– Contexture logo WITHOUT tagline

If you have any questions or need assistance with the logo, please contact MarCom@contexture.org.
8. Where can I find new Contexture-branded fonts?

In Contexture branding, Poppins is used for headlines and navigation elements, and Lato is used for easy-to-read body copy. (Note: You will need to download these free fonts in order to use them, as most computers do not have them installed as a standard font. Simply click on the font links above and then click the "Download family" button on the top right of the page. Once the ZIP file is downloaded, unzip the file/"Extract all", highlight the individual font files in the folder, then right-click to select the "Install" option.)
9. Do we have Contexture-branded collateral for our products?

Yes, we have branded collateral for the main products from both HIEs. Please contact MarCom@contexture.org for more information on these materials.
10. Is there electronic Contexture letterhead?

Yes, click here to access an electronic version of our letterhead available as a Word document template. If this document does not meet your needs, please contact MarCom@contexture.org.
11. Is there an electronic Word file template for generic Contexture documents (such as reports or proposals)?

Yes, click here to access a Word document template for general Contexture reports, guides, proposals, etc. If this document does not meet your needs, please contact MarCom@contexture.org.
12. If I regularly do speaking engagements on behalf of the organization, do I need a new headshot that matches ELT's new ones?

Yes. Please contact MarCom and we will work on setting up a session with a headshot photographer.
13. When will we have updated Business Agreements and Participant Agreements?

The business teams are working to develop a pricing and service offering strategy across both states for Contexture. The development of new Contexture Participant Agreements will closely follow that process. Until otherwise notified, business development and account management teams should continue utilizing the existing, state specific Participant / Participation Agreement templates and statements of work.
Please note: If you need assistance with the development of new templates or contracts, please contact Kelly Procopio, VP of Contract Administration, who will pull in the appropriate resources from legal, IT and finance to assist.
14. Do we have a Contexture branded Teams meeting background?

Yes. We now have five different background colors for you to choose from. Please use these for any external speaking engagements or when you'd prefer not to have your background show in Teams.
15. Does MarCom need to review all public-facing documents?

Yes, the MarCom team needs to review the branding of external-facing documents for consistency FOR ALL NEW PROJECTS. To have MarCom review your Contexture branded document or messaging, please use the subject line BRAND REVIEW: [topic] [deadline] and send to MarCom@contexture.org.
Still Have Questions?

For any additional questions related to the Contexture brand transition, please contact the MarCom team at marcom@contexture.org.
##
Last updated: September 18, 2023